eBay is one of the most well-known online marketplaces in the world, and consistently in the Top 50 most visited websites on the internet.
Founded in 1995 by Pierre Omidyar, originally as AuctionWeb, it has revolutionized the way people buy and sell goods.
But the concept of commerce is not new, humans have been trading goods since ancient times.
No longer do buyers and sellers have to travel long distances to barter for goods.
With the advent and efficiency of digital marketplaces like eBay, everyone now has a chance to create a business.
From a seller's perspective, eBay provides an incredible opportunity to reach a global audience.
One of the most significant impacts eBay has had is its role in sustaining the second-hand economy.
The platform has created a space for people to sell pre-owned goods, giving them a second life and reducing household waste.
This is important for both the economy and the environment.
From a financial perspective, buying and selling second-hand goods can be a lucrative business.
For example, someone who has a passion for vintage clothing can turn that passion into a thriving business on eBay (this is how I am able to work for myself).
By sourcing and selling unique, rare or even everyday pieces, sellers can make a living doing something they love.
This is just one example of how eBay has created opportunities for entrepreneurs and small business owners.
From an environmental perspective, the second-hand economy has a significant impact.
By giving pre-owned goods a second life, we reduce the amount of waste that ends up in landfills.
This is particularly important for items that are difficult to dispose of, such as electronics and furniture.
By selling these items on eBay, their lifespan extends and reduces the need for new products to be manufactured.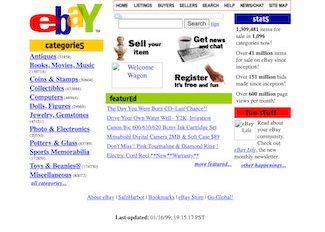 eBay's history is a true testament to the evolution of commerce; a mainstay for online shoppers and a source of empowerment for sellers for over a quarter century.